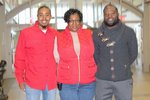 Mrs. Caples with REAL MEN
MLK enjoyed visits from "REAL MEN"
On Friday, March 2nd, REAL MEN from our community took time to visit with our students and staff. These real men read to classes and shared their careers with students. It was an exciting time at MLK. The pictures below show the fun we had.